Create the perfect spot for your furry friend to nap or lounge with this Super Plush Pet Bed. The Soft Plush Pet Cushion Bed is comfortable and self-warming. In winter, it keeps your dogs warm and comfortable. Your pet feels more secure and relieved by the bed! In addition to providing more comfort for deep sleep, the raised rim of the pillow also provides head and neck support, as well as joint and muscle pain relief. Pets will love the soft interior, which is similar to their mother's fur. Give your pets a good night's sleep even in the winter. So, what are you waiting for? Buy it now!

Benefits:
This design is pet friendly.

It creates a sense of security and provides head and neck support.

Provide your animals with ultimate comfort for full restful sleep.

Fury kids will have full, restful sleep for improved behavior and better health.
The Last Pet Bed You'll Ever Have To Buy, GUARANTEED!
Pamper your pet with our self-warming and the soothing bed that is finished with a luxurious faux shag fur and mimics the cozy comfort of a mother's fur coat! Paired with deep crevices that allow your pet to burrow, your fury kids will have full, restful sleep for improved behavior and better health.
SIZE CHART
When choosing your pet's bed, we would recommend the Small and Medium for cats or small dog breeds up to 25lbs. The Large bed is suitable for dog breeds up to 45lbs. The Extra Large bed is suitable for dog breeds up to 75lbs & The XXL is perfect for breeds up to 100lbs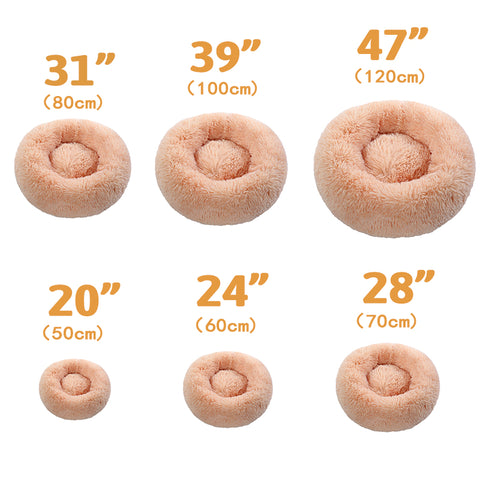 Eases Anxiety – Our Soothing Bed can help relax and ground your fur kids. Our bed is an inspiration from an age-old concept that is practiced by therapists to help ease anxiety.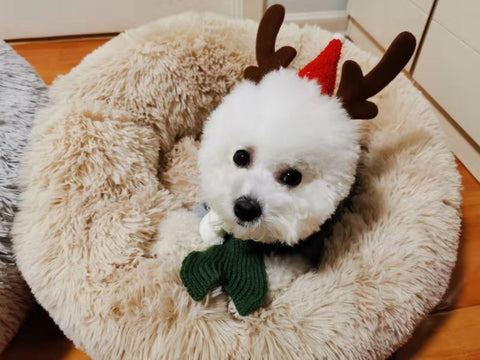 Extra Comfort: Ideal for pets who love to curl up! The raised rim creates a sense of security and provides head and neck support, while the super-soft filling offers joint and muscle pain relief.
Versatile Design: Available in beautifully natural colors, our pet beds are a seamless addition to any room's décor! And because they're finished with water and dirt-resistant bottoms, they help prevent accidental messes from reaching your floors.
Pet-Safe Materials: Durable nylon and luxurious faux fur come together to create dog mattresses that are as practical as they are comfortable!
Machine Washable: For added convenience, every bed is safe in the washing machine and dryer (Machine wash, gentle cycle. Tumble dry, low heat), minimizing pet odors and excess hair.
 WHAT PEOPLE SAY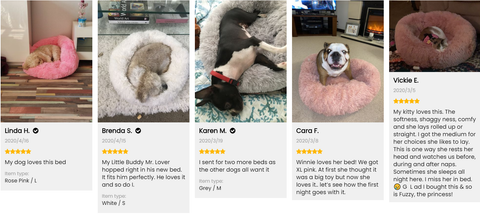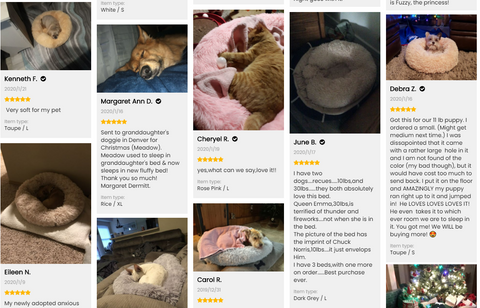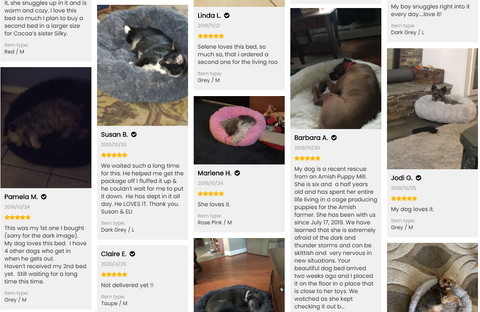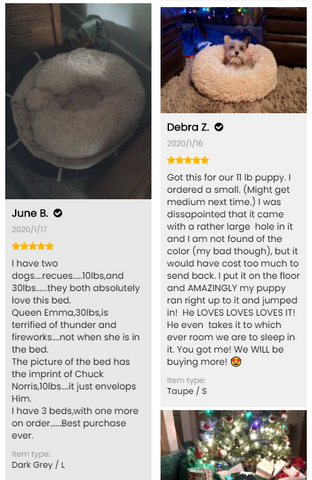 Hi!
We started our Pet-ssential journey in 2021. 
As fellow dog and pet owners, we understand how difficult it is to keep up with our fur friends needs without breaking the bank.
We created Pet-ssential as a way to deliver high quality products for you and your pet(s). We strive to provide unique pet products that will be sure to save you time and money and keep you and your pet happy!
We are happy to answer any questions and please do not hesitate to reach out to us! After-all, we are here for you!
Have a great day! ☺
- Pet-ssential
When will my order be processed?
All orders are handled and shipped out from our warehouse in China. Please allow extra time for your order to be processed during holidays and sale seasons.
We process orders between Monday and Friday. Orders will be processed within 3-5 business days from the order date and shipped the next day after the processing day. Please note that we don't ship on weekends.
How long will it take to receive my order?
Once you place your order, please allow 3-5 business days to process your orders. After that, it will take 12 - 20 business days for delivery in the United States, and 15-30 business days for international orders (depending on location).
Will I be charged with customs and taxes?
The prices displayed on our site are tax-free in US Dollars, which means you may be liable to pay for duties and taxes once you receive your order.
Import taxes, duties and related customs fees may be charged once your order arrives at its final destination, and are determined by your local customs office.
Payment of these charges and taxes are your responsibility and will not be covered by us. We are not responsible for delays caused by the customs department in your country. For further details of charges, please contact your local customs office.